Join the New York Ramblers hiking club and discover some of the most delightful hiking trails in the greater New York City area with our volunteer hike leaders. Upcoming hikes (shown below in our Hike Calendar) are:
about 14-18 miles long in 8-9 hours
accessible by public transportation
within 50 miles of NYC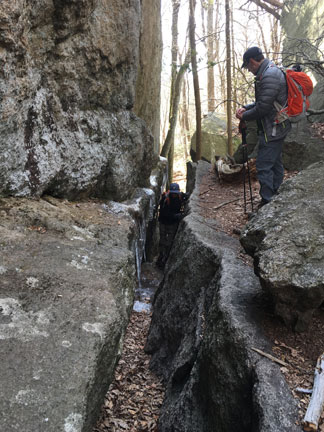 Sunday Hikes
We go hiking nearly every Sunday, year-round. Occasionally we hike on other days too. We go out in all kinds of weather–check with the leader if uncertain.
For more details about what to expect on our hikes, check out our About page.
For Serious Hikers
Please note that you MUST be an experienced hiker in good physical shape able to hike at a moderately fast pace for 8-9 hours. Haven't hiked with us before? No worries–come along as a guest and see what it's like.
Simply find a hike below
Contact the hike leader, tell leader about your hiking experience, and find out when and where to meet
Meet us at the designated place
Note that NYC subways are not as frequent on early Sunday mornings—allow extra time to get to the meeting place.
After coming along as a guest on two hikes, send in the application form for membership. (Annual dues are $6 per year, plus $1 initial fee.)
* * *
Hiking involves certain inherent risks; hikers participating do so at their own risk.
When you participate in activities listed in the Schedule, you should be both physically and mentally prepared and equipped with the appropriate gear. The hike leader is not responsible for your safety, you are. There is no age limit; however, those who bring children must assume full responsibility for their safety and conduct at all times. The hike leader has the authority to turn away anyone who is not adequately prepared. Hikes don't always finish at the expected time.
* * *
>> Hike Calendar

CORONAVIRUS UPDATE: All regular group hikes are cancelled from now through Thu. Apr. 30. Please check back for possible updates. Thank you and hope to see you soon.
Daily – Apr. 30
DO-IT-YOURSELF NEW YORK CITY HIKES.
(Manhattan, Brooklyn, Queens, Bronx, Staten Island)
If you are doing social distancing, here is a helpful list of sites that feature local hikes in NYC that you can do on your own.
•
The Most Beautiful Walks in New York City
/ FITT
•
Self-Guided Walking Tours to Explore New York, New York
/ GPSMYCITY
•
Hiking Trails
/ NYC PARKS DEPT
•
Hiking in NYC Parks
/ NYC PARKS DEPT
•
The 5 Best Places for You to Hike in New York City
/ DNA INFO
(Thanks, Eve!)
In light of Gov. Cuomo's "PAUSE" directive, here are suggestions to keep safe while hiking in New York State Parks, Recreation, and Historic Preservation locations.
• Covid-19 Update
(Thanks Eileen!)
Sun. Apr. 5 – CANCELLED.
HARRIMAN CIRCULAR VIA BUCHANAN MOUNTAIN – CANCELLED.
(Harriman State Park, NY)
From its start at Rte. 17, hike Sapphire Trail to its terminus at the Appalachian Trail. Continue on AT southbound for approx. 3.5 miles, then bushwhack to summit of Buchanan Mtn. Proceed overland NE to pick up woods road descending to East Mombasha Rd. Continue to Orange Turnpike, bypassing Arrow Lake. Briefly roadwalk south to gas line, which follow back to start of hike. NY-NJTC map 100.
Sun. Apr. 12 – CANCELLED.
RAMAPO LAKES AND PONDS.
(New Jersey)
From Ramapo College, proceed to Ramapo Valley Reservation and, via Yellow, Silver, and Yellow trails circle Scarlet Oak Pond. Take Orange-Gold, Yellow, and Pink trails to circle Macmillan Reservoir, then follow Blue, Red-Silver, Blue, and Shore trails around Bear Swamp Lake. Take Cannonball and Crossover trails to Gatun and Weyble Ponds and follow old road north to circle Potake Pond and pass Shepherd Lake. Use Ringwood Ramapo Trail to Mill Pond, then take Crossover, Cannonball, camp road, and Schuber to Red-Silver, Blue, and Yellow out. NY-NJTC Map 115.
Sun. Apr. 19 – CANCELLED.
LAKELAND PARK.
(Long Island)
(Long Island Greenbelt Trail.) From Central Islip train station use Rte 100 and local streets to enter Lakeland Park and explore its many boardwalks. Then north on the Greenbelt Trail to exit at Smithtown.

Sat. Apr. 25 – CANCELLED.
VAILS GATE TO CHESTER.
(Orange County, NY)
(Note: this is a Saturday hike.) Hike the old Erie railbed crossing under the Moodna Viaduct, old rail bridges, Washingtonville with its library's Tiffany Windows, Blooming Grove, Craigville, Greycourt, and passing the black soil country.

Sun. Apr. 26 – CANCELLED.
HARTSDALE TO CRESTWOOD.
(Westchester)
From Hartsdale train station hike to and around Greenburgh Nature Center. Then, via parts of the Bronx River and Hutchinson River Pathways, Colonial Greenway, Leatherstocking Trail and local roads, visit Twin Lakes and Ward Acres Parks, Larchmont Reservoir and Nature Study Woods. Return to Twin Lakes Park before ending at Crestwood train station. Hike is about 15 miles at an unhurried pace.

>> May
Sun. May 3.
WALLKILL VALLEY RAIL TRAIL SOUTH: A CIRCULAR.
(New Paltz, NY)
From New Paltz head south, crossing the Plattekill Gorge and Forest Glen bridges, and Gardner, to Denniston Rd., and returning on quiet country roads. Fare: circa $40.00 RT, seniors less.
Accessible by bus–contact leader for details.
Length: 7-8 hours at moderately fast pace
Leader: Ludwig
929-471-7260
Sat. May 9.
NORTHERN HARRIMAN RIDGES AND HOLLOWS.
(Harriman State Park, NY)
(Note: this is a Saturday hike.) From Elk Pen, hike east (northbound) on AT to the blue-marked Hurst trail, which follow to the Fingerboard Shelter for morning snack or early lunch. Return to AT southbound, and bear left on the Ramapo Dunderberg Trail when the two trails split. Follow the RD south to the Nurian Trail, which use to White Bar Trail. Follow WBT south up and over Car Pond Mountain. Right onto Parker Cabin Hollow Trail and out to Tuxedo Park-and-Ride for Short Line bus. NY-NJTC maps 118&119.
Accessible by bus–contact leader for details.
Length: 7-8 hours at moderately fast pace
Leader: Ingrid
Sun. May 17.
NURIAN TRAIL MAINTENANCE.
(Harriman State Park, NY)
A full working day clearing and improving the NY Ramblers' section of this Harriman Park trail. Bring clippers and other garden tools you possess. NY-NJTC map 119.
Accessible by bus–contact leader for details.
Supervisor: Todd

Fri. May 22–Mon. May 25.
CATSKILLS.
Spend three days hiking in the Catskills, hikes to be determined by leader and group. Overnights at Craig Nunn's house. Contact leader by May 14 for details.
Dues paying members and their guests only, please.
Leader: Eve
Sun. May 24.
THE GRAND RAILROAD TERMINALS OF THE PORT OF NY/NJ.
(Manhattan, Hoboken, and Brooklyn)
Visit various railroad terminals that played an important part in the early 20th Century history of the metropolitan area. From Grand Central Terminal, walk to Penn Station and the Hudson Yards neighborhood then use the High Line to the Christopher Street PATH train. Visit Hoboken Terminal and, via local streets, the Central Railroad of New Jersey Terminal in Liberty State Park. Return to Manhattan and the new World Trade Center Terminal via PATH from Grove Street. Cross Brooklyn Bridge to the Brooklyn Atlantic Terminal.
Accessible by subway–contact leader for details.
Length: 7-8 hours at moderate pace
Leader: Dennis
212-925-2739
Sat. May 30.
57TH SEMI ANNUAL SUPERHIKE: 6 HARRIMAN PEAKS, 26 VIEWS.
(Bear Mountain/Harriman State Park, NY)
(Note: this is a Saturday hike.) From Manitou use Bear Mountain Bridge to Hessian Lake, then Major Welch Trail to ascend Bear Mountain. Follow Appalachian Trail south along West Mountain. Jump to Timp-Torne Trail, visiting The Timp. Continue east on TT and turn onto Ramapo-Dunderberg Trail, which follow along Dunderberg Mountain, continuing over Bald Mountain. Relax on 1777 Trail north back to the Bridge; recross and use rugged blue blazed trail to ascend Anthonys Nose. Out to Manitou on AT north to South Mountain Pass Road. NY-NJTC map 119.
Dues paying members and their guests only, please.
Accessible by train –contact leader for details.
Length: 10-11 hours at moderately fast pace
Leader: Todd

* * *
Because in the end, you won't remember the time you spent working in the office or mowing your lawn. Climb that goddamn mountain.
~Jack Kerouac
* * *
© 2020 The New York Ramblers, Inc.- A Hiking Club. All Rights Reserved.
Photo by Ingrid.
Member of New York-New Jersey Trail Conference