After coming along on two hikes, you should send in an application to become a member of the New York Ramblers. You can 1.) mail the completed application to our Treasurer, Chris, with a check or 2.) scan it and email it giving Chris the dues in cash on an upcoming hike.
$6 per year for individuals (plus a $1 first-time application fee)
$7 per year for couples (plus a $1 first-time application fee).
You can pay dues annually or several years at a time.
. . . . . . . . . . . . .
Membership Application
Download the application form, complete it, and return it with your check.
Applications are approved at the next semi-annual council meeting. After submitting the form and waiting for approval, just keep on coming. Twice a year, printed Schedules are mailed to members. Dues help us pay for printing, postage, and rental of space for the annual meetings.
Thank you for your generous support.
Patches
New York Rambler patches are available to dues-paying members for $2 from our club Treasurer, Chris.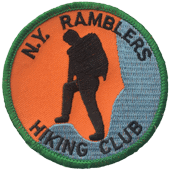 * * *
* * *
After a day's walk everything has twice its usual value.
~George Macauley Trevelyan
* * *
Member of New York-New Jersey Trail Conference
Photo by Wenli