We love to hike. It's that simple. And we do it every weekend—usually on Sundays—using public transportation to get there. We are a small group of hiking and nature enthusiasts from the NYC area with 100+ members. You will see some of the same smiling faces on every hike, and some of the others just once in a while.
Our members come from all corners of the globe. What brings us together is the fun of exploring trails and discovering new places.
What to Expect on a Hike
We meet the hike leader, at a designated place—usually at a NYC bus or train terminal and buy our tickets and get on board. Sometimes car drivers meet us later at a designated spot near the trailhead.
on the sign-in sheet, we fill out and sign liability waiver
follow hike leader instructions
buddy up, and regroup at trail intersections—bring map and compass if you have them
bring lunch, snacks, and water (2-3 liters). Lunch break lasts about 1/2 hour. Leader passes around cookies (yum!!) afterwards
Usually we arrive back in NYC between 6:30 and 8:30 pm. Before parting, we thank our much-appreciated hike leader for a brilliant hike!
If you have additional questions, please contact the hike leader in the Schedule.
Follow the New York Ramblers on a late winter hike to Harriman State Park. We meet up, take public transportation, start hiking, and explore some sights. (Video by Alena) Enjoy!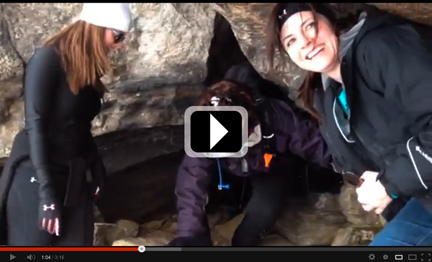 In the News
DNAinfo.com recently asked the New York Ramblers about the best places to hike in and around NYC. One of our favorites—Inwood Park—is a gem in the rough.
DNAinfo.com: "The 5 Best Places for You to Hike in New York City"
USA Today offers advice on joining a New York City hiking club—like the New York Ramblers—and things to consider: size of the group, types of hikes, public transit, etc.
USA Today: Hiking Groups in New York City.
The New York Post sent two intrepid NYC journalists on a hike with us to the Briarcliff-Peekskill Trail. Check out the short and entertaining article.
New York Post: "Into the Woods"
Backpacker magazine ran a cover story about Best Local Hikes. They featured recommendations from New York City hiking clubs, including two Rambler favorites—the Timp-Torne Trail and Breakneck Ridge Trail. Both have spectacular vistas and are accessible by public transit.
Backpacker: "Local Hikes: New York City, NY"
*   *   *
*   *   *
Only those who risk going too far can possibly know how far they can go.
~T.S. Eliot
*   *   *
The New York Ramblers, Inc.- A Hiking Club © 2017 All Rights Reserved.
Photos by Kelly, Eve; video by Alena.
'Welcome' page photo by Eve.
Member of New York-New Jersey Trail Conference
Share this page: